Trends, Design
5 trends to look out for in 2023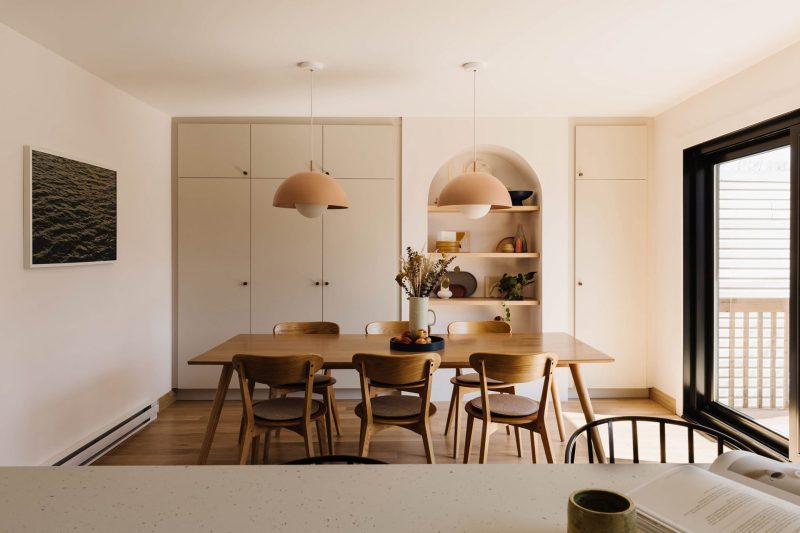 In 2023, we still crave comfort. And while making your space warm and welcoming and filling it with light remains essential, it's time to throw some creativity into the mix. With its curves and verticality, one thing's for sure: 2023 is for being cozy and true to yourself!
1. Turn up the heat a notch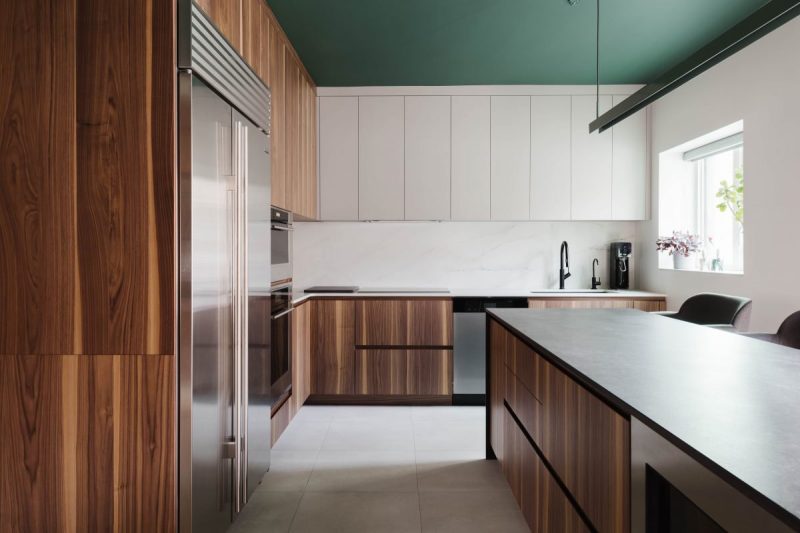 In 2023, cocooning holds the top spot. We feel like having warm, cozy, comforting decors. On the walls, the spotlight goes to green. All shades apply —fir, avocado, or moss— and don't forget terracotta and its multiple variations and punchy accents. Even whites get warmer, combining their milky shades with a few touches of cream.
Darker woods are also back, adding mystery to the decor. Chic and romantic, black resurfaces in accessories or well-chosen pieces of furniture. As for permanent furnishings, keep it neutral, save the colour accents for walls and accessories.
2. Dare to go vertical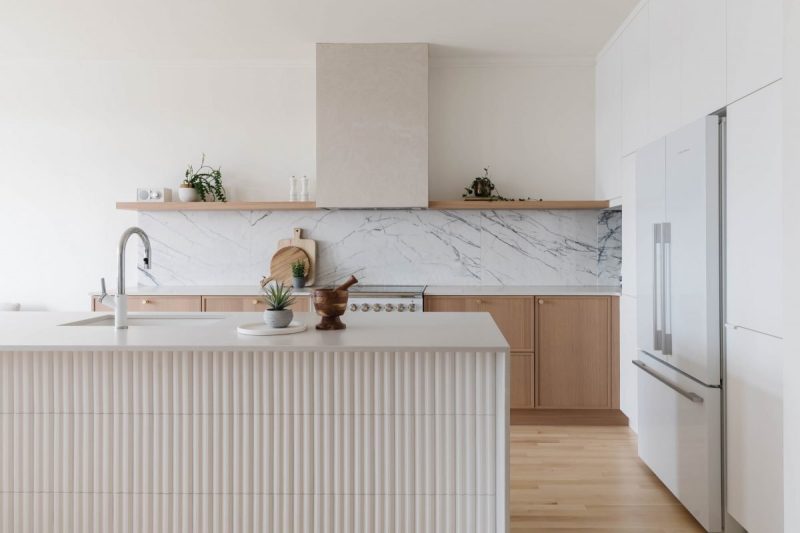 In 2023, we climb higher. Whether in symmetrical alignment or in a deliberately broken pattern, creating a backsplash with rectangular tiles placed vertically will definitely give a sense of height. You want to cover a low wall with wood slats or add ceramic tiles to the surface of an island? Verticality will add a lot of personality and amplitude, and doors with metal frames around Flutex glass with vertical lines will lend character to the decor.
3. Curves are back, and all for the better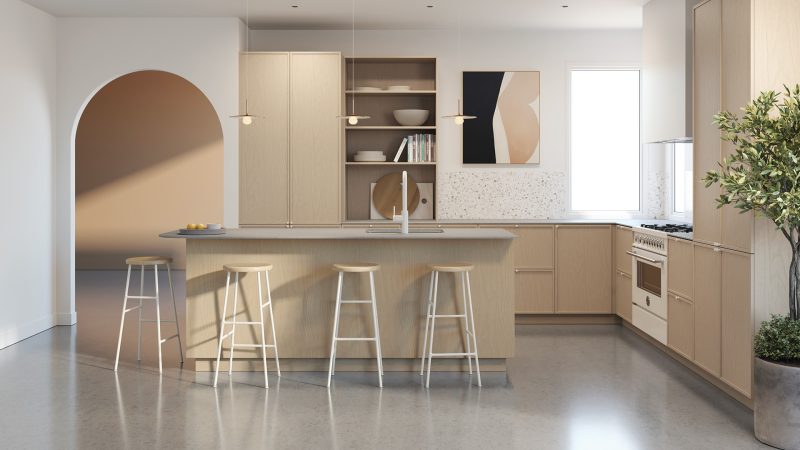 Curves continue to make strides, appearing in the arch of a door or a built-in, a rounded armchair, handle, mirror or accessory. A great match for the gentle Japandi style, curves add a touch of poetry —and even sensuality— to the decor. The perfect opportunity to soften daylight and hush evening lighting using fixtures with rounded shapes, thus creating a variety of atmospheres.
4. Creative boldness is the name of the game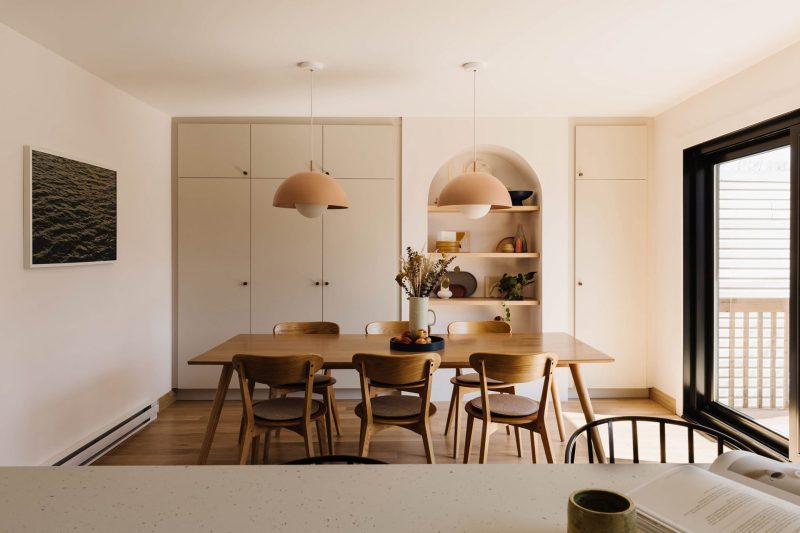 In your decor, this translates as a deliberate stroke of eclecticism, where combinations —of materials, textures, furnishings, accessories— put on a good show.
More than ever, decorating proves to be an opportunity to make our personalities stand out. The perfect exists alongside the imperfect to give life to your interior. We go crazy for the unusual height of a backsplash or the unique character of solid-coloured ceramic tiles.
Eclectic objects get noticed: the neutrality of bare walls makes space for a unique piece that becomes the focal point; everywhere you look, natural materials —wood, wicker, leather, and linen— take centre stage while handmade objects like crocheted cushions or pottery are highlighted.
5. Clever organization and storage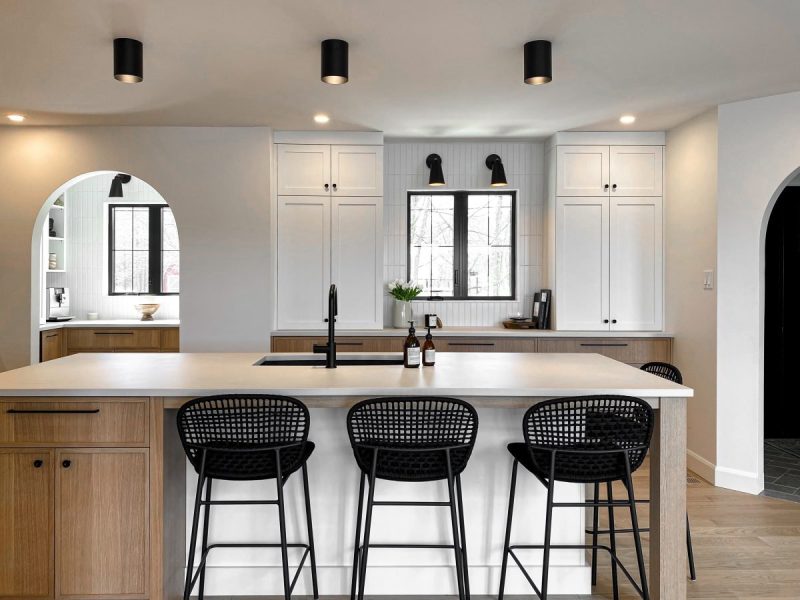 In 2023, we're rethinking the way we organize our space. Since the pantry is now an integral part of the kitchen, it becomes a kind of open concept walk-in where small appliances play out a discreet and functional existence. For practical purposes, the top cabinet units disappear to make more space, and, why not, let more natural light in with the addition of a window. On the other hand, an abundance of drawers is crucial for optimizing storage.
We can't get enough spaces entirely dedicated to a coffee station, while countertops can once again host small and useful objects. Say goodbye to the clinical feel of our white kitchens, left without stories to tell for too long. Here, wooden kitchen utensils poke out of a handcrafted clay jar; there, a wooden fruit bowl filled to the brim, or a wicker basket where linen tablecloths have been put away.
A word of advice? Keep in mind that the winning recipe must be able to stand the test of time. If you feel the need for something extravagant, make sure you opt for applications that can be easily modified over time. And don't forget that beyond trends, above all your decor needs to be like you. Manufactured in Quebec, the Miralis products and collections are made to last.