Lifestyle
Karine Vanasse's kitchen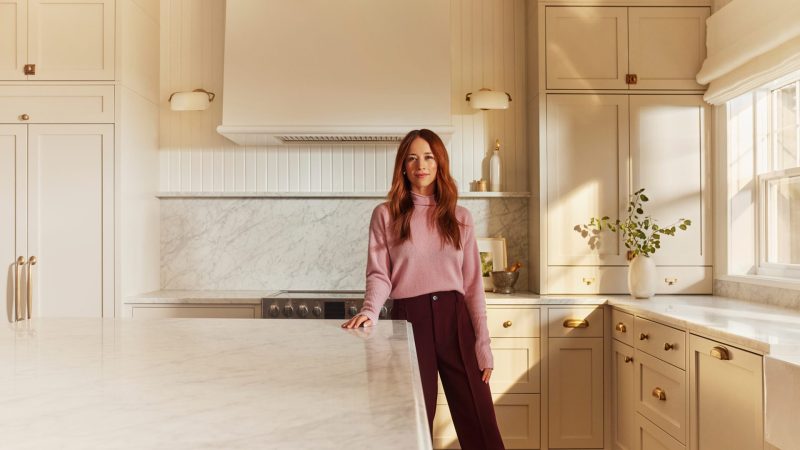 In her farmhouse-style house in the Eastern Townships, Karine Vanasse's kitchen gets top billing. "It's the first room you see when you come into my house," explains the young actress and mother of a three-year-old boy. "It was important to me that the kitchen reflect our lifestyle and improve our lives on a daily basis." The gamble paid off! The newly renovated space is worthy of the actress's personality: elegant, welcoming, warm… and timeless.
At first, several childhood memories guided the approach to the renovation. "I had these images of my family lined-up along the kitchen counter where my father was shucking oysters during the holidays. It was important to me to be able to translate that kind of emotion in my own kitchen and to turn it into a welcoming place where enjoying yourself was always came first."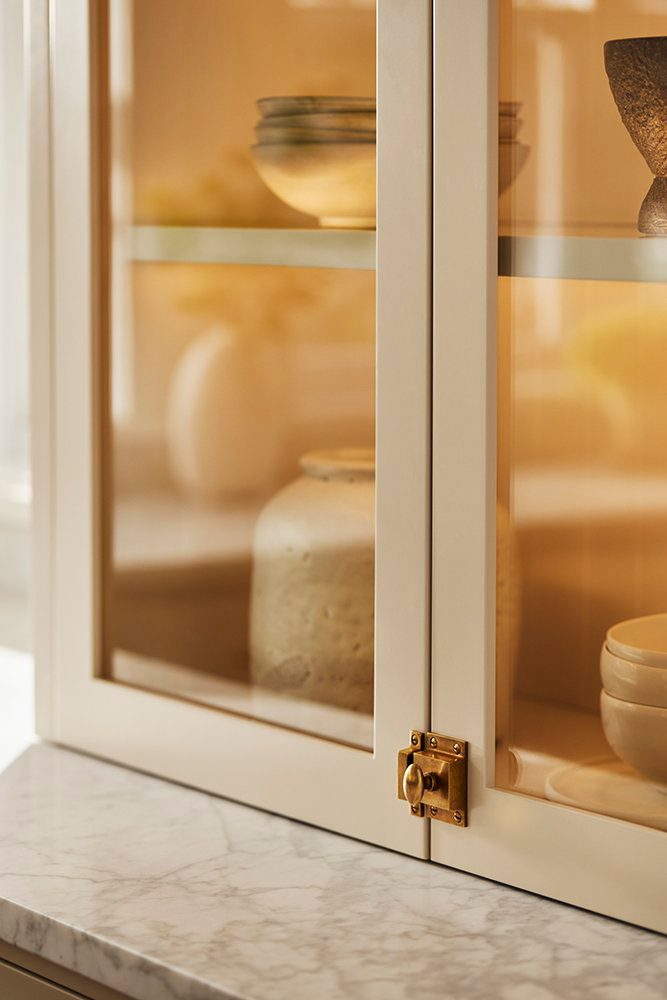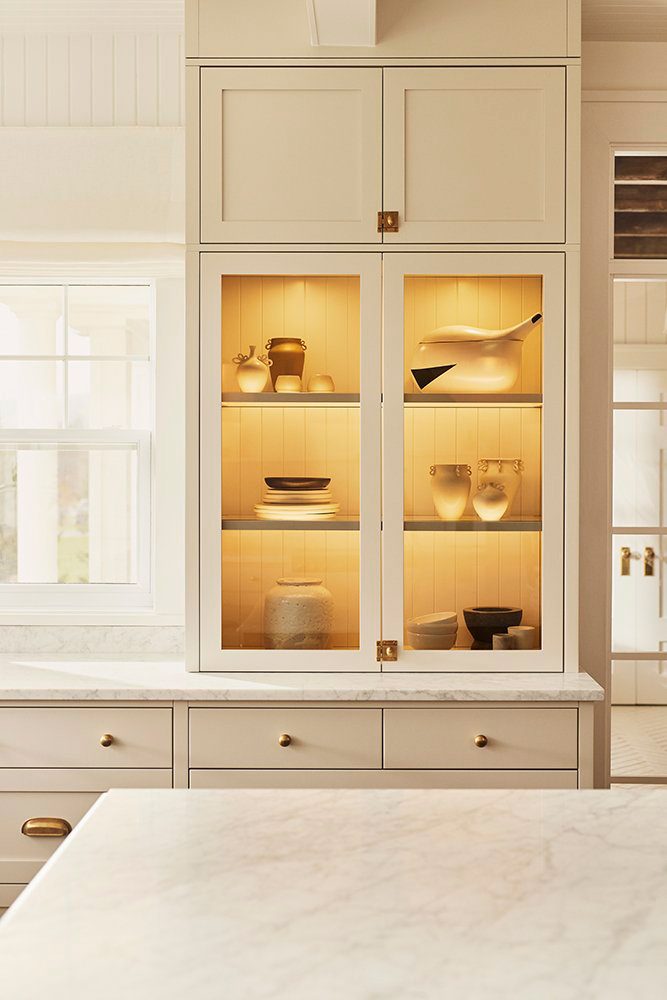 With the help of designer Audrée Kemp Bélanger, Karine saddled to the task of giving a soul to a recently built house whose rather characterless interior gave the duo a blank canvas to work with. The central theme? "I love Los Angeles and urban lifestyles. But for my house, I was dreaming of something more traditional that would be both current and timeless."
The art of details
The arts, design, and a certain eclectic tendency, have long been part of Karine's life. "Art allows you to reveal yourself. It says a lot about a person when you see what they surround themselves with."
Karine spent hours choosing materials, allowing herself to be bold and create refined combinations, deftly mixing woodgrain with a golden finish, white panelling, the sheen of marble and natural stone. "When it's well-balanced, the overall effect gives character to the decor."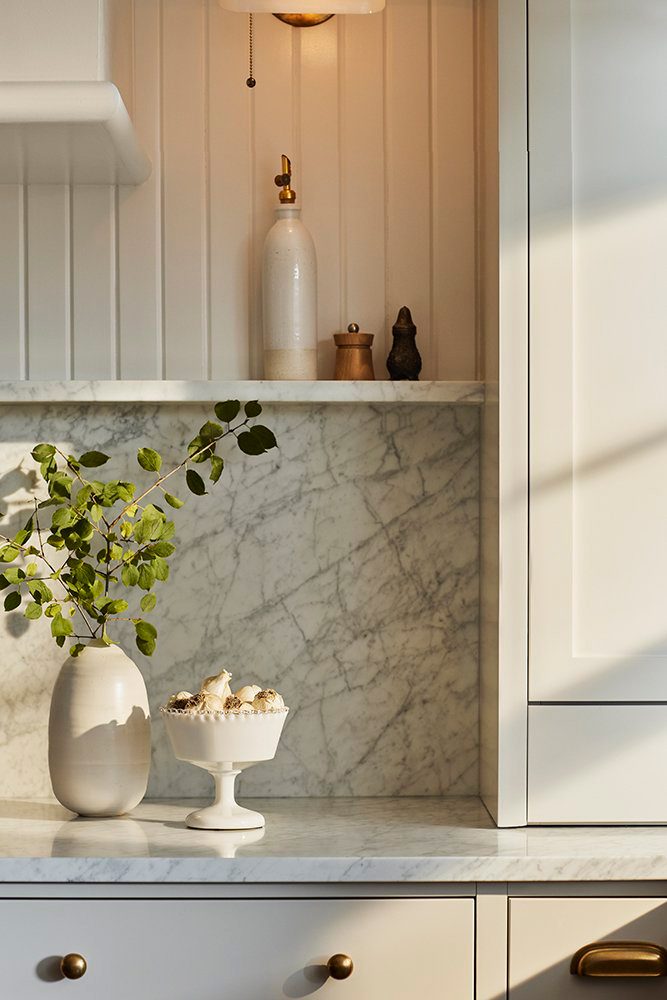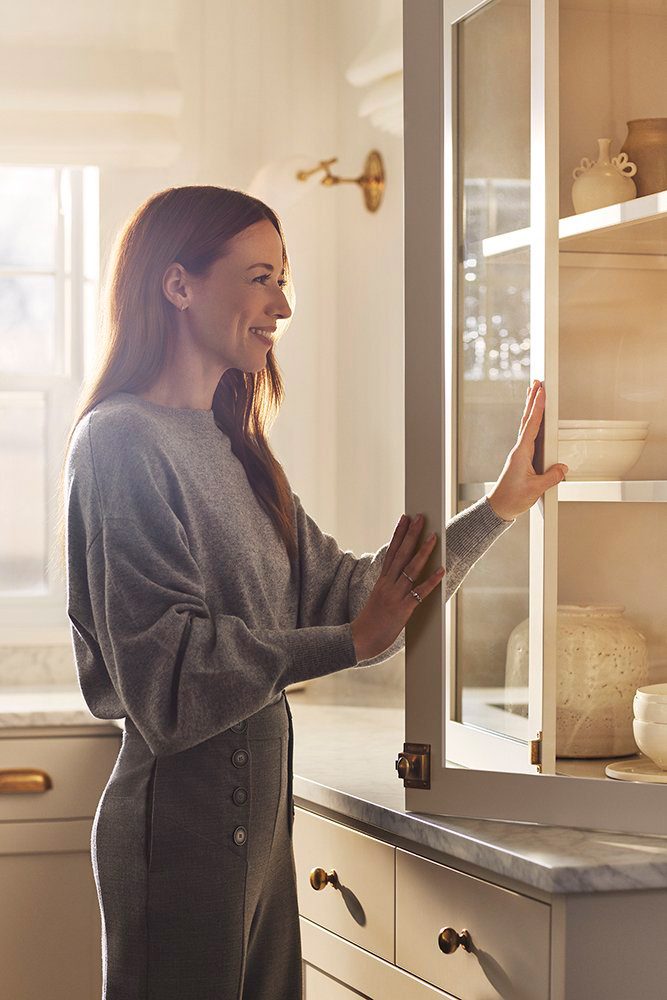 The natural beauty of the latticed windows inspired the addition of beams on the ceiling and lattes in order to create a style where the rustic and contemporary rub shoulders. Thus, the range hood was built-in, a half-wall panelling of bleached wood was created, and mouldings were added to accommodate a marble backsplash. Refinement down to the smallest detail!
The unifying element
In her U-shaped kitchen, the island was enlarged to welcome more guests. "I can't wait to try it," chuckles the woman who, given the pandemic, is still resigning herself to keeping invitations to a minimum. "I wanted the island to be its own object placed in the center of the room and not just another storage unit. Although everything is new, I wanted to play with textures in a way that felt lived-in." For the base of the island, she chose a wood whose dark grain matches the original flooring while blending in with the greyish-beige of the new cabinets, lamps, and stools.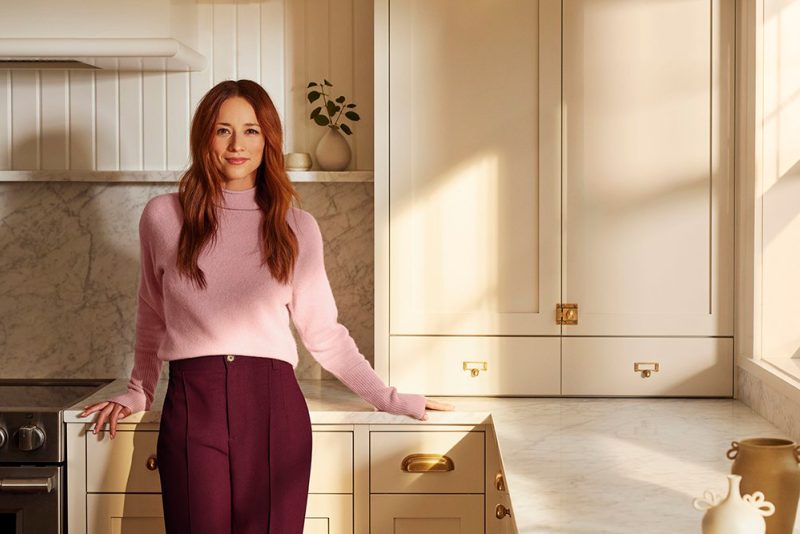 Orderly and bright
Karine Vanasse likes spare environments with everything in its rightful place. However, living in a museum was out of the question! So never mind the display of beautiful objects that are only there to impress. "My Curio cabinet is where I store the good dishes, the pottery and ceramics I love and use every day. We see them, we love them, and we use them on a daily basis."
Karine chose drawers over cabinets, both for their storage capacity and visual coverage. "I love opening a drawer and immediately seeing everything that's inside. In the kitchen, I insist on making my life as simple as possible." To be even more efficient, lighting was added to every drawer in the island and in certain cabinet units. "There's nothing more frustrating than not being able to see what's hiding in the back of the drawers."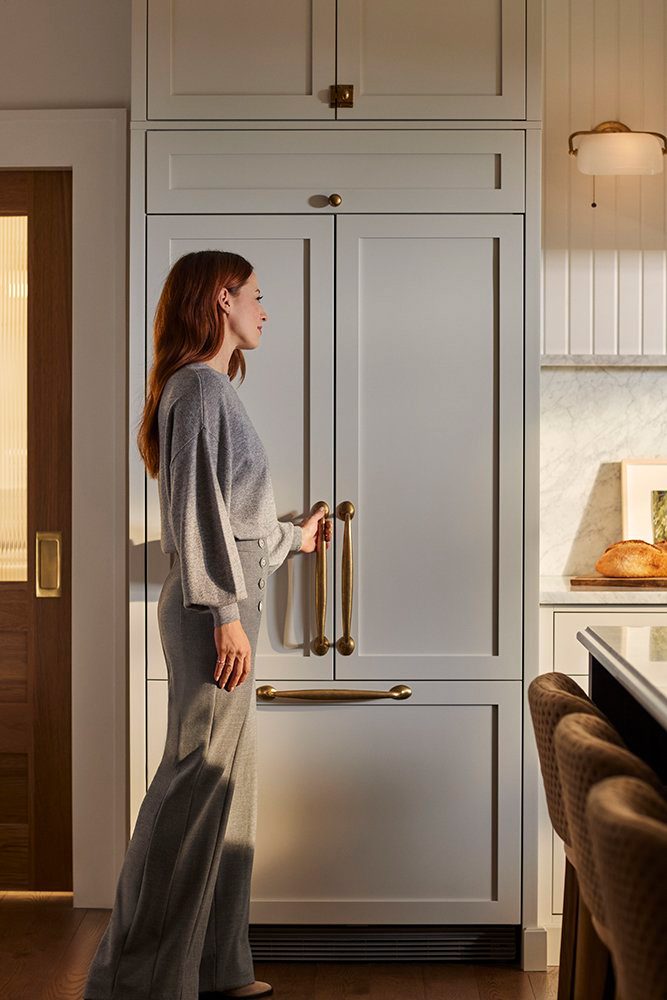 Her son feels the same way. Both curious and wilful, he has his own ultra-accessible bottom drawer, in which his chef's apron and little secrets are all hidden away.
The last word
What does Karine like best about her kitchen? "Feeling quality down to the smallest detail. Also the fact that while I put a lot of work into the look, my daily experience was also the focus. And beyond being well thought-out, my kitchen is going to stand the test of time along with me, and I think that's really great."