Lifestyle
5 tips for reducing the environmental impact of a new kitchen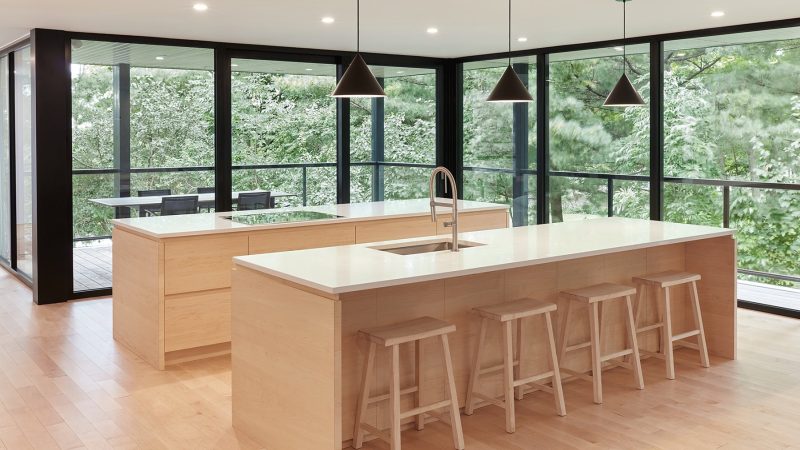 For a few years now, people have been more concerned about the environmental impact of a renovation project. For many, durability needs to be integral to the project. Discover 5 tips for limiting the ecological impact of your kitchen's renovation.
Long-term design considerations
Choose durable materials
Buy local and encourage ecoresponsable practices
Prioritize energy savings
Limit waste by offering a second life
1. Long-term design considerations
Design is a key element of a living space's durability. In order for your kitchen to be just as enjoyable in several years, its design must be thought out according to your long-term needs. For example, if you plan on expanding your family in the next few years, think about including spaces for storing dishes in the base cabinets and adding sliding drawers. Over time, your children will learn to prepare their own meals and will even help you unload the dishwasher!
Beyond mere functionality, it's also possible to still think your kitchen looks great in 10, 15, 20 years from now! How do you come up with a design that will age gracefully? Choose more neutral tones for the cabinets and counters, and add style using accessories that can easily be changed over the years, like the backsplash, faucet and lighting fixtures.
2. Choose durable materials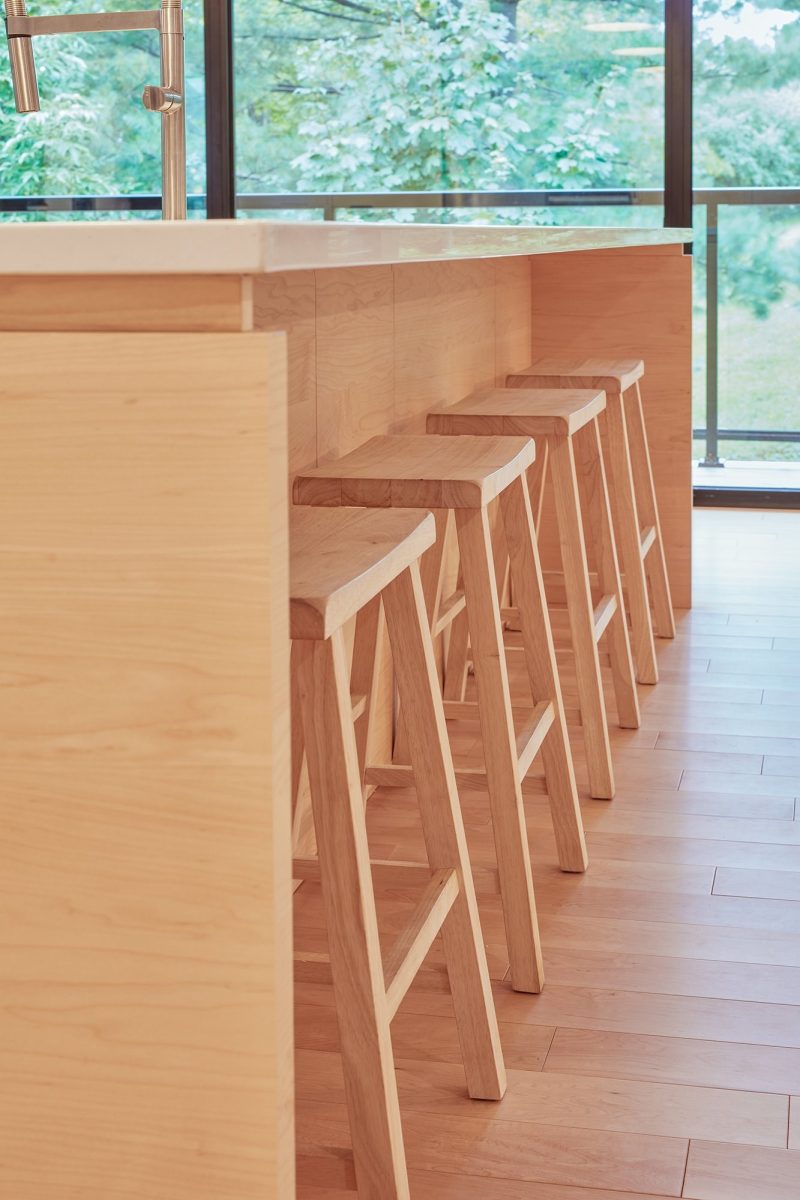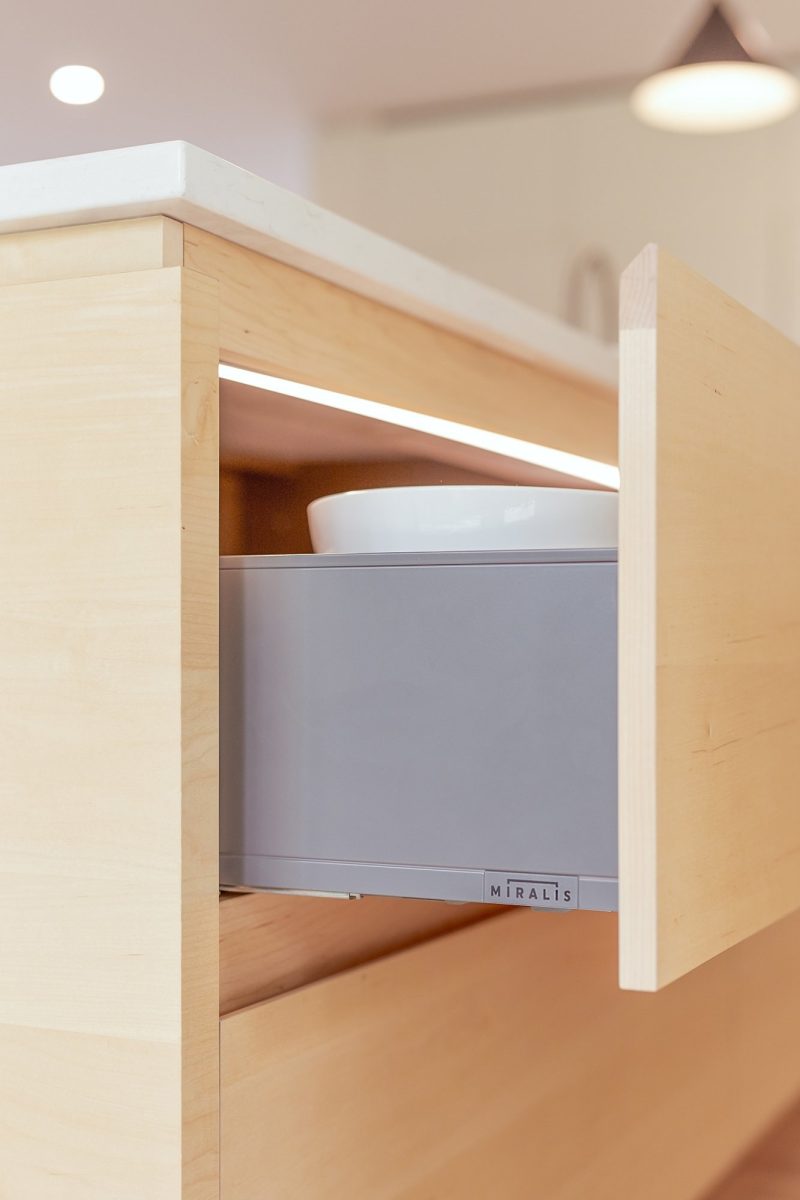 Materials are the foundation of a successful renovation project, hence the importance of making the right choices. One could think that natural products like wood or stone are more ecological, but that's not necessarily the case. The composition of a product is not enough to determine its impact on the environment, you must also consider its resistance, which varies depending on manufacturing processes.
Durable materials are designed to be in good shape and look great several years later, and their composition is good for your health. Whether we're talking about cabinets or counters, look for resistant products, with low volatile organic compound emissions (VOC), a toxic substance found in certain products like glues, varnishes, dyes and paints.
3. Buy local and encourage ecoresponsable practices
Opting for local supplies will allow you to reduce the travel required to transport materials, and by so doing, the carbon footprint related to your project. Don't forget to consider where the raw materials come from, where they are processed and the location of their point of sale.
It is also important to consider the manner in which products are made. Are they mass-produced, made on-demand to limit overproduction and waste? Are they made using energy intensive or energy-efficient methods?
Moreover, some manufacturers implement initiatives to limit waste related to their production, whether through innovative internal practices or by collaborating with other organizations.
4. Prioritize energy savings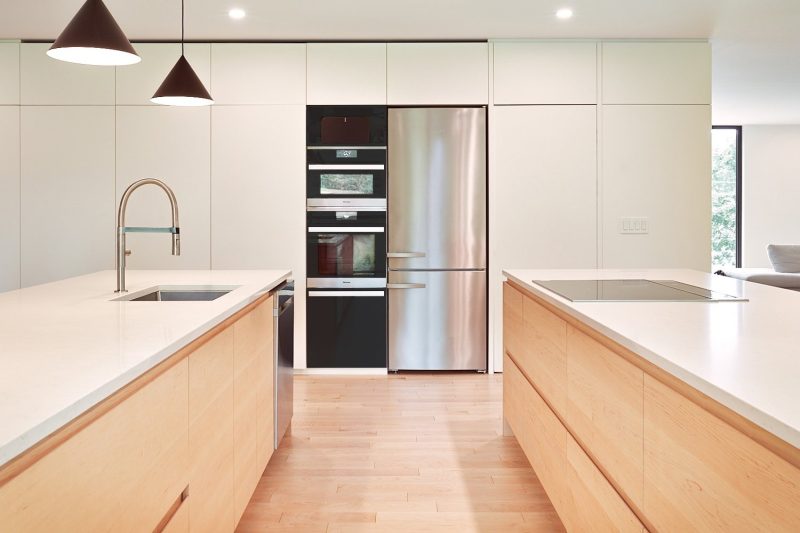 It's also possible to limit the quantity of energy consumed at home by choosing energy-efficient products. In terms of lighting, LED bulbs consume less electricity, generate less heat and last longer than other types of bulbs. We also recommend choosing high-quality appliances that are energy-efficient. On top of reducing your electricity bill, they will contribute to reducing your overall impact on the environment. Look for ENERGY STAR labelled appliances, an international symbol for energy efficiency.
5. Limit waste by offering a second life
When renovating, it's impossible to remain indifferent to the big waste disposal container filling up at breakneck speed. Before demolishing everything, it's to your benefit and that of the planet to reuse elements that could have a second life and thus limit your waste.
Did you know you could give your kitchen cabinets a second life? Think of a cottage that needs sprucing up, a neighbour seeking a low-cost new kitchen, or even a donation to a person in need. In just a few steps, you'll avoid destroying a used product that will make someone else very happy.
After all, it's important to take care of our planet, and every little gesture can make a big difference!